Early in 1967 the writer, Greg Blackmore, drove up to Rockhampton and then out to "Tartrus" west of Marlborough and on the Mackenzie River to start work for Graham and Shirley McCamley. As I drove into the property from the Marlborough Nebo Road which was then the Bruce Highway, I was blocked by floodwaters and had to camp the night by the road in my swag. I can remember that the sand flies were very bad and I used up all my after shave trying to keep them at bay.
At "Tartrus" the workers lived in a corrugated iron quarters and cooked their own meals on an outside fire. My system of washing clothes involved putting them straight into a tub of water with Nappy San or Bio Ad at the end of the days work and next morning rinsing them out and hanging them up to dry.
This employment only lasted a short time as, unfortunately, on my 21st birthday (21st February), I got on a horse in the horse yard that reared up and threw me off over his back and then came down on top of me. I narrowly missed being pinned against the rails, however the weight of the horse fractured my pelvis.
I then spent the next 3 weeks in the Rockhampton Base Hospital on my back wedged between 2 sand bags and not allowed out of bed. I had driven myself in to see the Doctor the day after the accident, in my HR Holden Ute, and I can remember holding my backside off the seat with one hand for the whole trip, which would have taken the best part of 2 hours.
The Doctor that first saw me at his surgery in Tobruk House had been a flying doctor at Mt Isa and knew Gregory Downs. When I arrived at the hospital outpatients I had to wait for hours to be attended to and then when they finally saw me, they would not let me go back to my Ute to get my things and put me straight into a wheel chair to be taken to the ward.
The Ute stayed locked up on the street where it was parked for the 3 weeks. Mum and Dad did fly up to visit and offered to take me back home, but trying to be independent, I declined.
For the remainder of that year I worked in the stock camp at Gregory Downs and later constructing 15 miles of fencing on the Gregory , Yeldham, Kamarga boundary with school friend Gordon Evans.
In 1968 I returned to work for Graham McCamley, firstly, for a short period, at "Oakland Park" near Bauhinia Downs and then in February back at "Tartrus".
This time I was employed as a plant operator and ploughed out Brigalow suckers, to establish pastures, in Melon Hole type country with a Shearer Majestic stump jump disc plough pulled by a Fiat AT7 crawler dozer.
Many years later, from 1991 to 1993 I also worked for the Cattlemens Union (founded by Graham McCamley) as a Field Officer for Southern Queensland and New South Wales serving some 50 branches, with the most Westerly being Birdsville.
Graham McCamley and "Tartrus"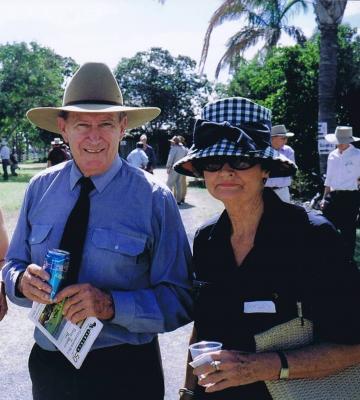 Graham Edward McCamley was born on 24 August, 1932, to parents Ted and Ivy, second generation Polled Hereford cattle breeders, who had established a successful stud on their property Eulogie Park near Dululu.
When Graham was 10, he was sent to boarding school at Rockhampton Grammar. Five years later, he was called home permanently after the death of his father's manager. He spent the next six years droving and breaking in horses on his father's properties, Eulogie, Kaiuroo and The Don.
A turning point in Graham's life came in 1953 and 1954 when he and his sister Mavis, along with Clare Langmore, took a three and a half month study trip to the United States, sponsored by Oregon State University. The tour of universities finished in the American South, where Graham was introduced to the Brahman breed for the first time.
In 1954 Graham and his father Ted inspected a property called Tartarus (later Tartrus), two hours from Rockhampton on the Mackenzie River. He purchased the property for 28,000 pounds.
There were plenty of challenges. The river country was overrun with brigalow and coolibah suckers and as the suckers increased, the country's capability to carry stock decreased. Graham's cattle also faced Mackenzie River sickness and lantana poisoning.
After years of a long clearing program involving raking, plowing and chemicals, the brigalow country had been transformed into productive agricultural land.
Graham married Shirley Tindale and they had three children, Jennifer, Russell and Jacqueline.
in 1958 Graham, who had learnt to fly, established charter business, Country Air Services in Rockhampton. In 1962 Don Milroy bought into the company and later bought out Graham. The original fleet were Austers and later Piper aircraft. Graham's first personal aircraft was a Piper Comanche. He later learnt to fly helicopters and used them in his business.
Graham was also heavily involved in the state government's Brigalow Development Scheme, launched in 1962 with a government funds of $23 million to develop 4.5 million acres of virgin brigalow scrub in Central Queensland to improved pastures such as Buffel, Green Panic and Rhodes grasses.
"Tartrus" carrying capacity had trebled through this development, however in 1968, 13,400 acres of the fully developed country was resumed by the Queensland government, with just $37,000 allocated in compensation.
"When they resumed that part of Tartrus, I told Minister for Lands Alan Fletcher that I would buy the first adjoining land that became available, because we needed the full 43,000 acres if we were to make a decent living off Tartrus," Graham said.
"In 1969, we purchased Royles, adjoining Tartrus, to help counteract this resumption."
Originally running Herefords and later Brafords, Graham and Shirley eventually moved completely to the much hardier Brahmans.
In 1968, Graham and Shirley showed Brahmans for the first time at Rockhampton and Brisbane where they were a big success.
Graham served as president of the Australian Brahman Breeders' Association, also served as president of the Central Coastal Graziers' Association, and was a producer member of the Australian Meat and Livestock Corporation.
Graham was instrumental in the formation of the Cattlemens Union in 1975 and was it's first President. More than 1100 cattlemen had attended the Union's first meeting at Rockhampton's Leichhardt Hotel, and it quickly established itself as a force to be reckoned with.
In June 1986, Graham, now 53, was awarded a Knighthood for services to the cattle industry and was described in The Morning Bulletin as "the saviour of Australia's modern beef industry"
Sadly, in April 2010, Easter Sunday, tragedy struck when Shirley was killed in an ultralight plane crash at Tartrus.
In his retirement, Sir Graham has recorded his life story in a book titled, "Roads in the Sky' , written with Jenny and Nick Mountstephen.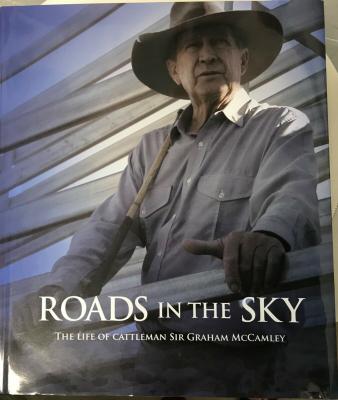 The book is available for a generous donation to The Lady McCamley Memorial Foundation from his office at 87 Bolsover Street, Rockhampton or Georges Menswear in William Street, Rockhampton. The Lady McCamley Memorial Foundation is an ATO registered charity whose focus is on suicide prevention.