Edwin Ord Blackmore, the fourth son of Edwin Gordon and Eleanora Elizabeth Blackmore (nee Farr), was born at Semaphore, Adelaide, on the 19th August 1879. After schooling at St Peters, Adelaide, Edwin attended the School of Mines and Industries in NSW, in 1902, and studied Assaying. Edwin then in 1903, emigrated to South Africa, aboard the ship "Commonwealth", on the advice of his older brother George, to work in the mining industry. Edwin became a surveyor/assayer for the Van Ryn Estate Gold Mines Ltd. His brother's George and James had also previously moved to South Africa. with George serving in the Boer War and later becoming a farmer in Transvaal. James also worked as a mining assayer.
At the outset of the First World War, Edwin made several attempts to join the fighting forces, but owing to an accident to his throat when playing football, he was declared medically unfit. Finally paying his own fare to Great Britain, he left on the ship "Llanstephan" in October 1916, hoping to take up arms in the struggle there but he was again declared medically unfit. He remained in England until the end of the war employed as operating staff, possibly as a Surveyor, at a large munitions factory near Carlisle.
In 1915, due to a shortage of artillery shells during WW1, work had begun on the nine mile long munitions factory, at Gretna, on the Scotish England border, that would eventually straddle the border from Dornock by the Solway in Dumfriesshire to Longtown in Cumberland.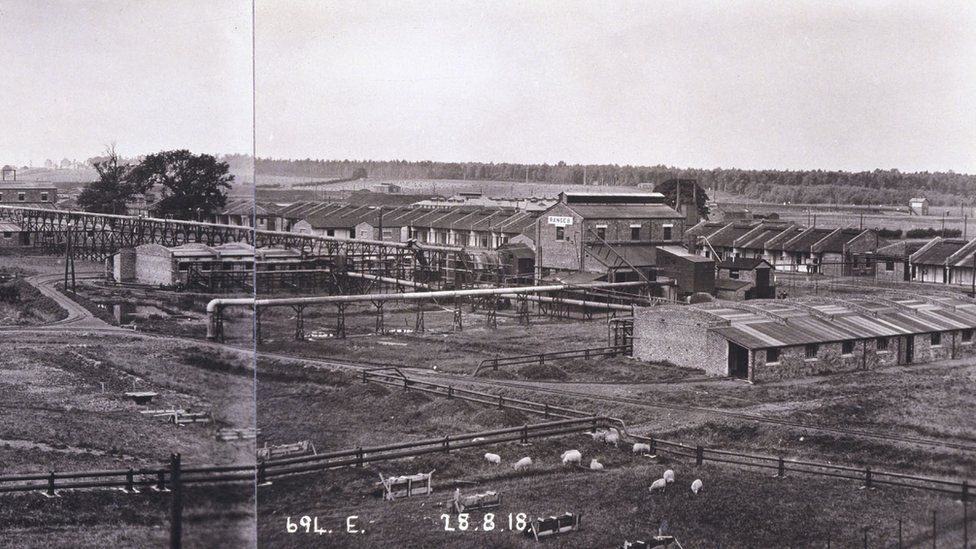 HM Factory Gretna was constructed in nine months, an astonishing achievement which was noted in a newspaper article by Sir Arthur Conan Doyle. The author of Sherlock Holmes is also credited with the creation of the term "Devil's Porridge" for the mixture of gun cotton and nitro-glycerine that was used to produce cordite as a shell propellant.
Cordite is a family of smokeless propellants developed and produced in the United Kingdom since 1889 to replace gunpowder as a military propellant. Like gunpowder, cordite is classified as a low explosive because of its slow burning rates and consequently low brisance, the shattering capability of a high explosive, determined mainly by its detonation pressure. These produce a subsonic deflagration wave rather than the supersonic detonation wave produced by high explosives. The hot gases produced by burning gunpowder or cordite generate sufficient pressure to propel a bullet or shell to its target, but not so quickly as to routinely destroy the barrel of the gun.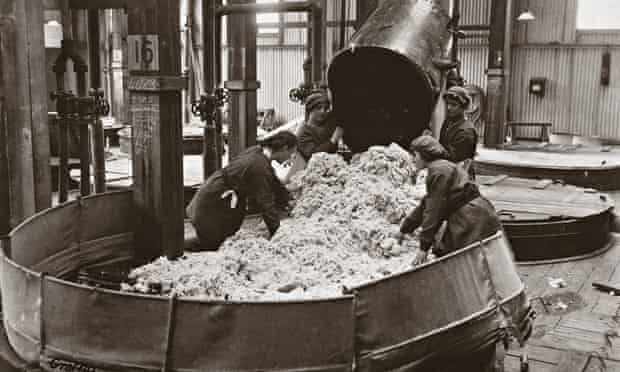 The first stage of the work involved charring cotton waste with nitric and sulphuric acid in pans made of stoneware to create nitro-cotton, or gun cotton. It was an extremely hazardous procedure, creating toxic fumes and the ever attendant danger of acid burns from splashes. The cotton was then washed in boiling water, followed by immersion in cold water and finally chalk rubbing, to neutralise the acid.
To produce cordite, gun cotton had to be mixed with highly unstable nitro-glycerine, which was created using glycerine from the soap industry, plus nitric and disulphuric acids. Nitro-glycerine production was so dangerous that no machinery could be involved. The materials had to be gently mixed in lead containers, allowing the nitro-glycerine to float up and be skimmed off. The nitro-glycerine was moved around site along lead channels under the influence of gravity alone!
Cordite was mixed by hand in broad vats. Conan Doyle wrote of the "smiling khaki-clad girls… swirling the stuff round in their hands" despite knowing that the risk of explosion was always present. The 34 locomotives that transported the material round the site from production to storage areas ran on compressed air, not coal, for that very reason.
30,000 people came from all over the UK and beyond to work at the factory, and a large proportion of these workers—12,000 in total—were women. The factory produced 800 tons of cordite per week.
The influx of people from all over the world led to two townships, Eastriggs and Gretna, being built to house them.
Carlisle was the closest city to the factory, and its railway system was well established, with direct routes to London and elsewhere. On the Scottish side of the Factory, routes linked the area to England as well as Glasgow, Dumfries, Edinburgh and Lockerbie. These railways were crucial to the factory's success—the cordite that would be made at Gretna would need to be shipped to other factories across the country to be packed into shells.
The factory's size also meant that both people and munitions often needed to be transported within the grounds. This internal railway had 16 different stations for workers to alight, one for those living in Gretna Township, three for those travelling from further afield, and the final 13 were for those who needed to be transported to the area that they worked within the factory. There was a total of 80 miles of railway track within the factory area. Because at certain stages in the process of making cordite was highly flammable, in some areas fireless locomotives transported materials. (A fireless locomotive is a type of locomotive which uses reciprocating engines powered from a reservoir of compressed air or steam, which is filled at intervals from an external source).
There were originally fourteen fireless locomotives that moved the volatile 'devil's porridge' across the Factory site (a further 24 locomotives were used to transport cordite from the Factory to shell filling factories).
Edwin Blackmore worked in the Mossband (#2) section of the Factory. Mossband and Dornock (#3) were the two administrative sites at H.M. Factory, Gretna. Dornock, near Eastrigg, was where the mixing of acids, nitrocotton and nitro-glycerine was done, and in Mossband the compounds were brought together to make cordite. The other two sections of the factory were Smalmstown (#1) and Gretna (#4).
After the war, Edwin Blackmore returned to South Africa, in 1917, aboard the ship "Inanda", where he again became a surveyor/assayer with the Van Ryn Estate Gold Mines Ltd.
Edwin married Ada Louisa Sylvia Wooding (born 1st Sept 1897, Cape Province, South Africa and 18 years younger than Edwin) on 13th February 1920 at Transvaal, South Africa. Ada had been orphaned at a very early age and was looked after by an elderly couple at the diamond diggings.
There were two daughters, Eleanora Louise (b 26/2/1921) and Joan Gordon (b 11/1/1923)
Edwin continued to work with the Van Ryn Estate Gold Mines for many years and after his retirement he acted as caretaker to the mine until his death on the 5th May 1956 in Transvaal, South Africa. (See another blog post for detail on Edwins' early life titled, "Edwin Blackmore – to South Africa") https://blackmorehistory.home.blog/2020/06/19/edwin-blackmore-south-africa/
This story has been compiled from information provided by Dr Laura Noakes, Research Assistant at the Devil's Porridge Museum in Eastriggs, Scotland. https://www.devilsporridge.org.uk/
Laura is currently working on a project, 'The Munition Workers,' which focuses on finding out about workers at H.M. Factory Gretna in World War One.